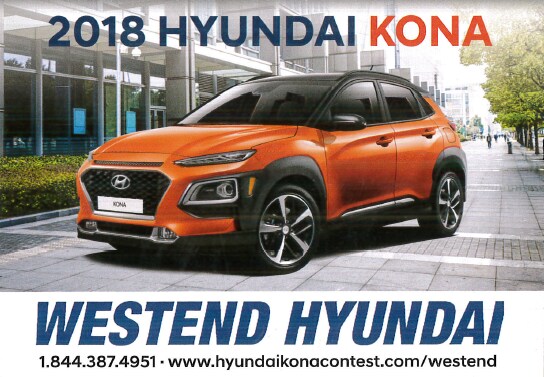 First-ever 2018 Hyundai Kona! This exciting new SUV from Hyundai is winning raves from the automotive press and Canadian drivers. Now you have a chance to win the Hyundai Kona Toronto drivers are falling in love with. Hyundai describes it as a new breed of SUV designed to take on the city. With its rugged looks and heart-pounding performance starting at only $20,999, we think it will conquer your heart, too.
How Do I Enter?
It couldn't be easier. Enter online at http://hyundaikonacontest.com/westend/ for your chance to win. This contest is open to Ontario residents until May 31, 2018. No purchase necessary. Or swing by our showroom to fill out a contest form, and while you're here, take the opportunity to test drive to most exciting new compact crossover SUV to hit the market in years.
It'll be your chance to check out the SUV that the reviewers are calling "fun-to-drive" (The Globe and Mail) and "stylish, agile" (Driving.ca). Or ask anyone who drives one every day, and they'll tell you how it puts a smile on their face from the moment they turn the key. No wonder the Kona scores 9.0 out of 10 on Reevoo, which collects reviews from real Hyundai drivers.
2018 Hyundai Kona Specs
The Kona is a compact crossover SUV, which means you'll experience the best of all automotive worlds. It's as agile and manoeuvrable as a small car, making it fun to drive and easy to park in the city. You have the high seating perspective of an SUV, so you can see in traffic. Its ride quality is terrific, absorbing the bumps of city roads while still delivering the handling that you'd expect from a multilink strut suspension. Meanwhile, its cargo area gives it the versatility to match your active lifestyle.
Engine Choices
The heart of performance is the engine, and the 2018 Hyundai Kona offers drivers two pulse-quickening choices:

•A 2.0L four-cylinder engine matched with a six-speed automatic transmission, good for 147 horsepower and 132 lb-ft of torque

•An available 1.6L turbocharged, intercooled, four-cylinder, direct fuel injection engine matched with a seven-speed dual clutch transmission, which generates 175 horsepower and 195 lb-ft of torque
Both engines offer power while still delivering fuel efficiency that you wouldn't expect from an SUV. Plus, an available all-wheel-drive system includes Active Cornering Control to deliver go-anywhere capability in any road conditions--perfect for Toronto winters.
Safety and Technology

The Kona is literally designed around safety. Hyundai calls its ultra-rigid chassis the SUPERSTRUCTURE, and yes, they use all capital letters. This is to emphasize how the Kona is built with Hyundai's proprietary Advanced High Strength Steel, an alloy that's stronger and stiffer and yet lighter than regular steel. In case of a crash, it absorbs energy and keeps the passenger compartment intact. Combine that with available safety features like lane departure warning, blind spot detection, and Autonomous Emergency Braking with Pedestrian Detection, and the Kona is as safe to drive as it is exciting.