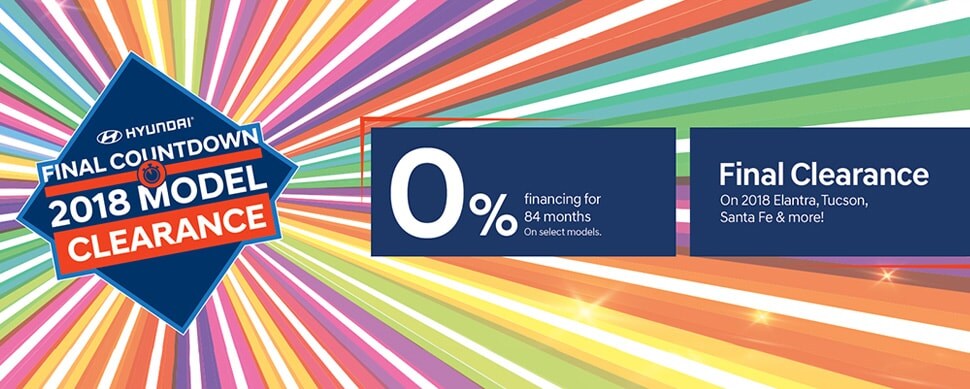 It's that time of year again when Hyundai is getting ready to roll in its new line of new 2019 year models. This means This means that we have got to get rid of a  lot of our 2018 models in order to make enough room on our lot for the new vehicle; that is great news for our customers. We have several models to choose from that are offered at a huge discount. Additionally, you are able to lease some of these vehicles at 0% interest for 84 months. No matter what kind of vehicle you are looking for, you are sure to find the perfect vehicle at a great price at West End Hyundai.
If you are looking for a brand new vehicle at a great price, we have plenty to choose from. Some of our vehicles that you can save big on include:

•2018 Hyundai Elantra GL is a stunning 4-door sedan that has a manual transmission, 7-inch touchscreen display, and front and rear heated seats that provide an added level of comfort to every occupant in the vehicle.

• 2018 Hyundai Sonata comes equipped with a 2.4l  GDI 4-cylinder engine that produces 185 horsepower and 178 lb.-ft. of torque. It also comes with a plethora of convenient and safety features such as Blind Spot Detection with Rear Cross Traffic Alert, rearview camera, and heated seats.

•2018 Santa Fe Sport is a versatile SUV that comes features a 5-inch touchscreen display, heated front seats, and Bluetooth capabilities.

•2018 Hyundai Santa Fe XL is the Santa Fe Sport's bigger and more aggressive brother. It features 18-inch alloy wheels, Bluetooth capabilities, and heated front seats to help you stay warm during the cold Canadian winters.
These vehicles come with a five-year warranty. They have been marked down to unbelievable prices. The Final Countdown Sales Event also allows you to lease several of these vehicles for 0% interest for 84 months. There are also other specialdeals and rebates available for certain models.
At Westend Hyundai we have a huge selection of new and pre-owned Hyundais to choose from. Whether you are looking for a family vehicle or something a little more sporty, we have an experienced and friendly staff that will take your needs and budget into consideration in order to help you find the perfect vehicle at the perfect price. Come by today and see all of the Hyundai specials that are going on throughout the entire month of August.